We can't believe we are writing this blog already, it doesn't feel as though we should even be mentioning New Year's yet, but here we are! We hope you had a very merry Christmas and hopefully, you all aren't suffering too much from your Champagne/Prosecco/Bucks Fizz- infused festivities.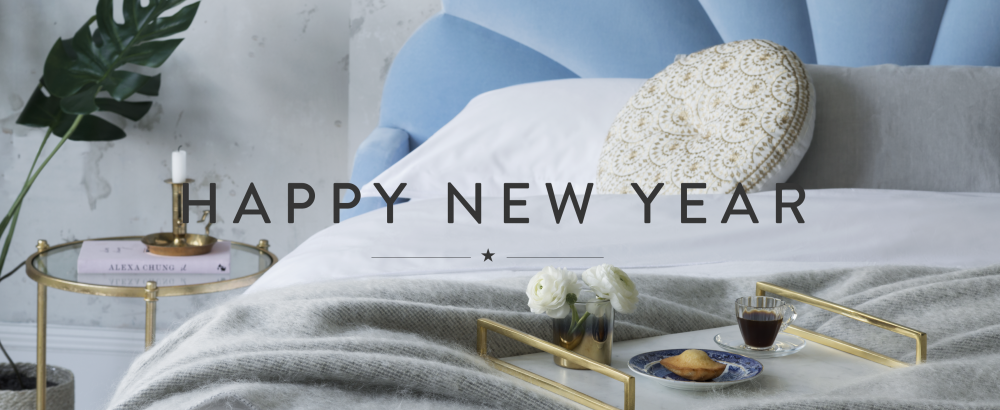 With only a few hours left of 2018, we hope your attention has now turned to the Champagne/Prosecco/Bucks Fizz- infused festivities, to celebrate the end of a brilliant year and to ring in an even better one. Believe us, we are just as excited as you are; after all, it is party season!
One great thing about party season is that we're kind of already in the swing of it. With Christmas just wrapping up, there's plenty of food and decorations left over to last us until December the 31st. Decorations can be altered slightly to give more of a New Year's vibe if you're tired of blinking Christmas lights.
Whether you're entertaining the five thousand, or simply just having a few friends and family over this New Year's Eve; you can transform your home quite easily with a few minor changes and additions. Keep reading below to discover statement pieces for your home that'll ensure you see the New Year in, in style!
DRINK TRAYS AND TROLLEYS
If you're not entertaining this New Year, you'll certainly wish you were with the ultimate hosting accessory; the drinks trolley. A drinks trolley is the ideal, multifunctional accent to have in your home for 2019; when you're having guests over you have the perfect storage for glasses, tipples and nibbles! And when you aren't entertaining, you have a luxurious accessory; adding character to your home.

COASTERS
Add a subtle touch of luxury to your home with some new coasters for your living or dining spaces. Coasters are equally as decorative as they are practical. If you've got company this New Year to ensure your surfaces remain scratch and spill free with a new set of coasters.

TEXTURED CUSHIONS
Scatter cushions are the best accessory to add some of your personality to your bed, sofa or lounge areas. Monochromatic/ Scandi inspired tones were a hit last year and are predicted to be just as stylish in 2019! Cushions also set to take the interiors world by storm, are those that add texture and depth through geometric lines and interwoven fabrics.
COLOUR
Just in case you missed it, Pantone announced its Colour of The Year for 2019, it's Living Coral! Fashion and interior designers have already started to utilise the colour, so you won't be short of places to find it this year. We don't expect you to start painting every room in your home coral, but as it is the New Year, why not consider inviting a unique pop of colour into your home in 2019?

---
SHOP THE LOOK
DRINK TRAYS AND TROLLEYS
1. Bahamas Trolley, 2. Lene Bjerre Depot Trolley – Large – Black, 3. Lene Bjerre Nara Decorative Tray
COASTERS
4. Marble Coasters – Set of 4 – Gold, 5. Marble Coasters – Set of 4 – Taupe, 6. Moroccan Tile Coasters
TEXTURED CUSHIONS
7. Zinc Textile Bonheur Cushion, 8. Zinc Textile Phibblestown Cushion, 9. Zinc Textile Bilbo Cushion – Connemara
COLOUR
10. Pantone Living Coral (16-1546), 11. Eichholtz Artemisia Vase, 12. Coral Gold Minimalist Bud Vases
Pictures by: Blog Lovin (Creative Creations), Sweetpea & Willow, Lene Bjerre, Pinterest, Etsy