We love the soft feminine colours for spring and top of our list is every bit of pink for interior design inspiration this month! Fashion week runways were filled with baby pink, candy and deep cherry, matching our mood for Spring perfectly. Hot on its heels were the luxurious softness of gold and pink embroidered on sheer fabrics with a glimpse of natural skin tones underneath, how elegant and stunning!
Brighten up walls with sweet shades of pink
How adoring are these dresses? The sweet side of femme fatale and pretty pinks create a girlish yet alluring look for Spring 2017 collections. Bring these lovely shades home with a splash of pink on your walls to create a soft contemporary feel. Fired Earth's Hansel and Gretel is the perfect match for otherwise unadorned walls or try their Orchard Pink for a retro pattern to bring playful lightness to a bedroom wall. Nancy's Blushes is Farrow & Ball's truest shade of pink and a lovely colour to create a feminine feel in a study or home office space.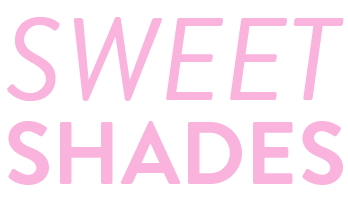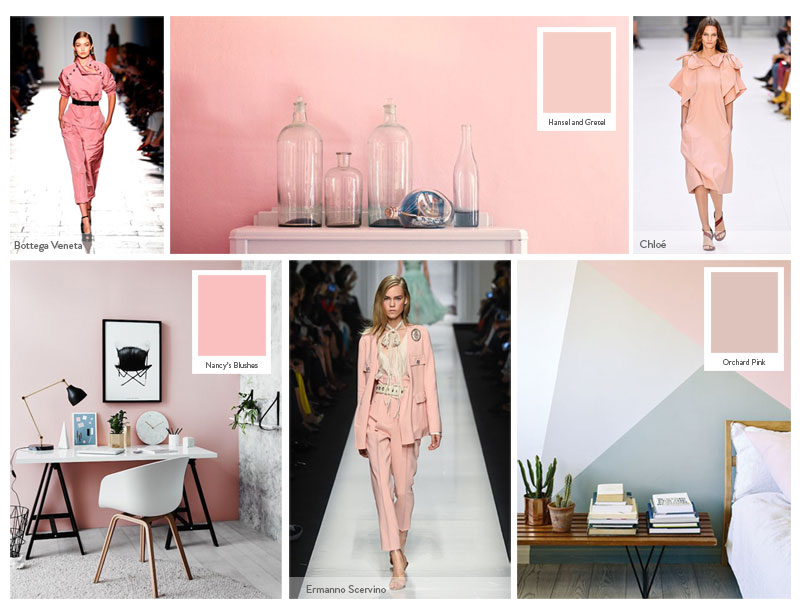 Play with shocking pink in furniture
Whether you choose bubblegum, fuscia or hot pink make sure you make a strong impression this Spring with one signature piece for your home. An elegant chaise longue works well in brighter colours and can be placed overlooking the garden, in a study or a quiet space in your bedroom. It is a daring choice and will surpass most expectations!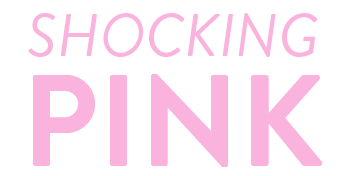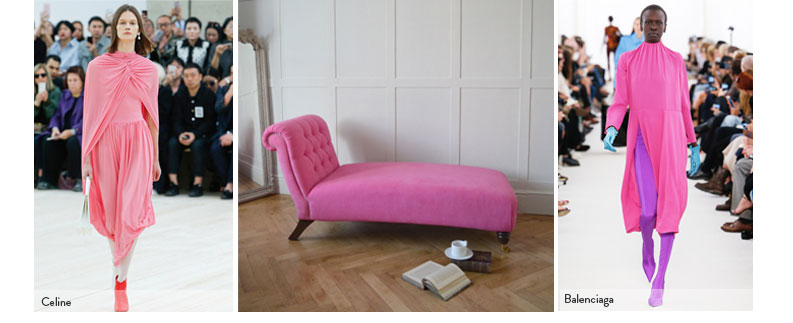 Add a soft touch of gold to vintage furniture
Designers outshined with gold and pink floral embroidered on sheer fabrics emphasising curves and skin tone under luxurious flowing fabrics, elegant yet discreet! Add some golden tones in floor standing lamps or side tables with soft pink hues in vintage furniture pieces to bring this sophisticated look into your home.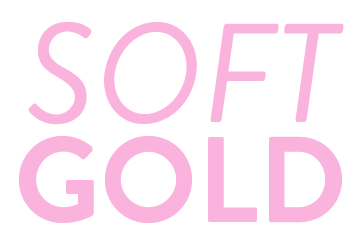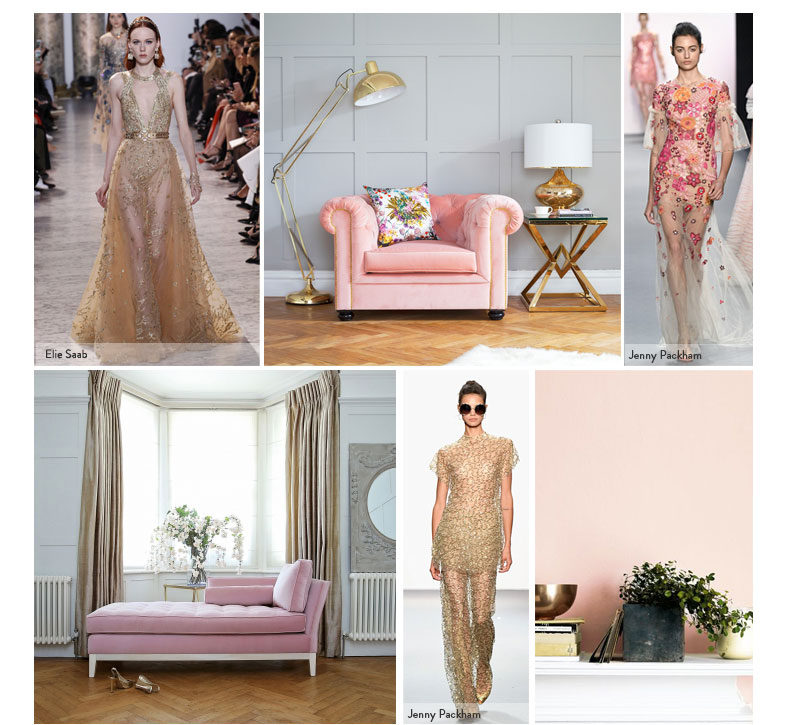 Where Victorian and Retro style meet
The best of fashion week London and fashion week Paris reminded us of this darling pink Victorian bath with geometric floor tiles to create a stunning and unique space for relaxation. Add a lovely pink and purple orchard to complete the look!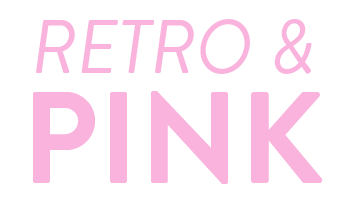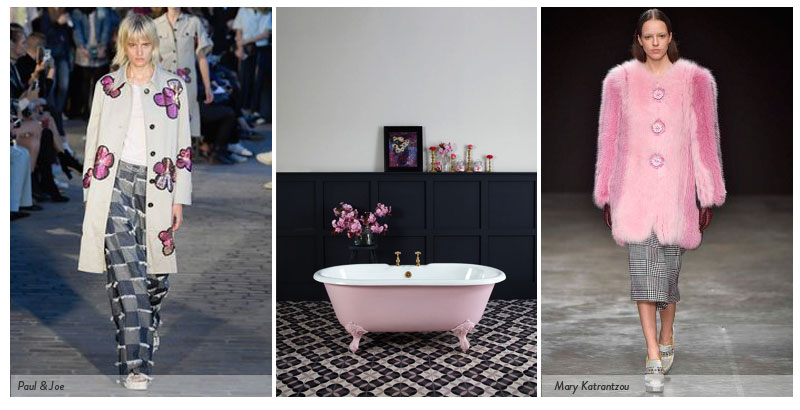 Pink for bed time
These little outfits are just too darling for summer parties! Oh the joy after a girly day out and all the excitement of what to wear and what to do! Soon it is time for Little Sweetpeas to float away in their fairy bedrooms wrapped in rose and loveliness.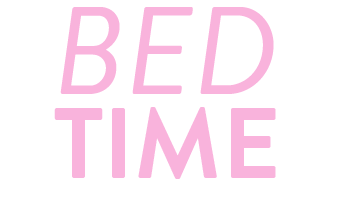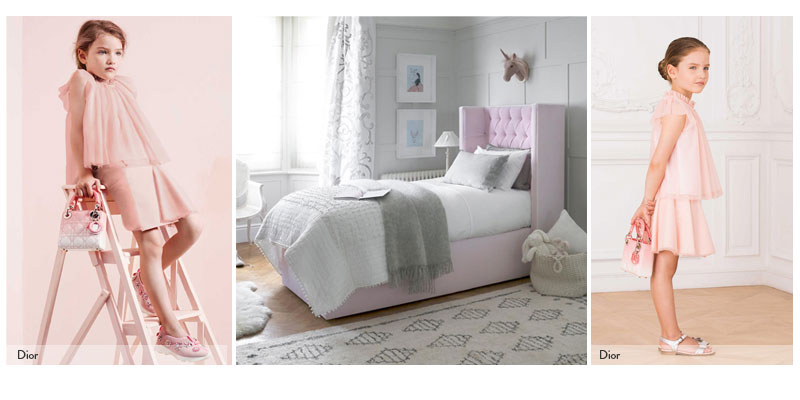 Get the look with these featured designer furniture pieces: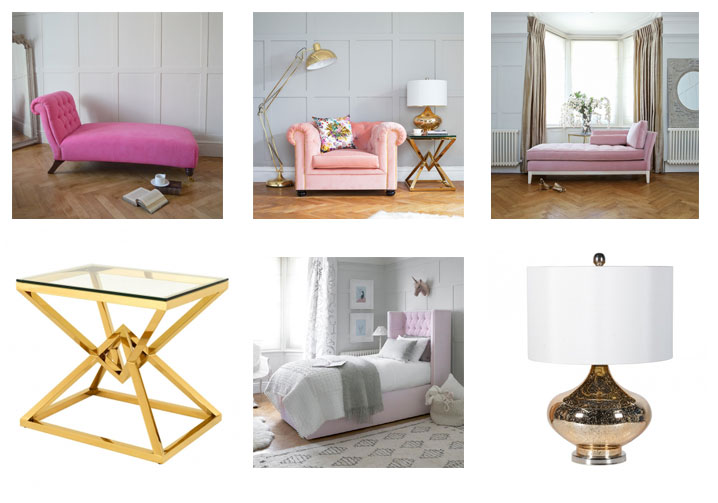 1. Hazelmere Contrast Chaise Longue, 2. Vintage Rose Berkley Armchair, 3. Antique Delphine Chaise, 4. Eichholtz Connor Side Table in Gold, 5. Petite Laurent Bed, 6. Antique Mercury Glass Lamp
Image sources: Fired Earth Orchard Pink, Fired Earth Hansel and Gretel, Farrow & Ball Nancy's Blushes, Apartment Therapy, The Mirror, Fashion United, Vogue, Elie Saab in Vogue, Daily Mail, Fashion Week Daily, Paul & Joe in Vogue, Dior Children's Fashion