Can you feel the chill in the air? It's that time of year again when the darkness descends and the evenings become ever longer. We spend lots of time indoors during the Autumn and Winter periods, which is why it's so important for your space to be as cosy and inviting as possible. And although it may be dreary and grey outdoors, that doesn't mean it has to be the same indoors.
So we're taking a look at some beautiful examples of how to introduce colour and texture to your interior this season, from bold blues, on-trend greens, and winter whites. Plus, we'll be telling you how you can get the look in your own home.
AUTUMN BLUES
If you're lucky enough to enjoy a lot of natural light in your property, then painting your walls a deep, moody blue can be an excellent way to make your home feel extra cosy. The dark tones are so calming, and really help your accessories pop.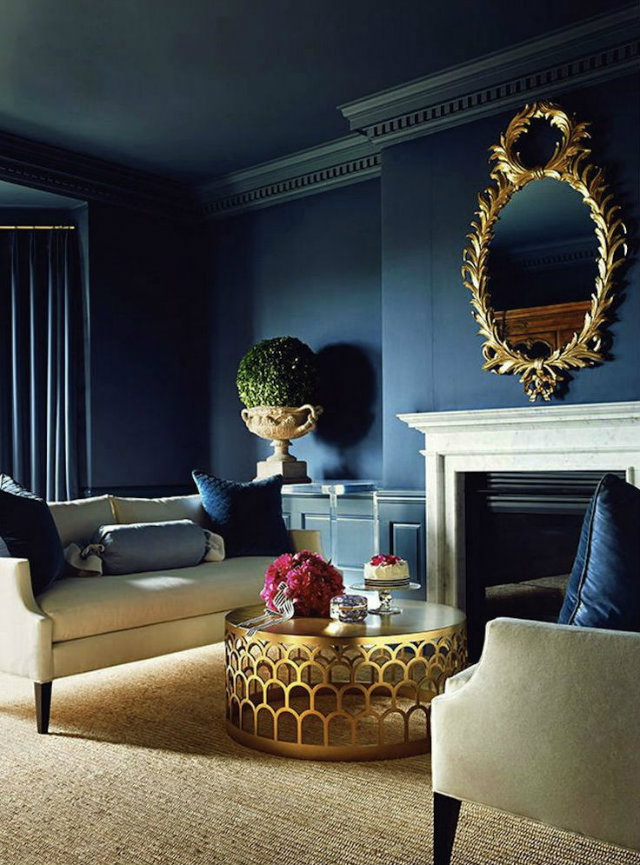 The gold, Baroque mirror and Art-Deco style coffee table in this gorgeous example, contrast against the navy blue walls beautifully. Small accents of colour from the bright pink bouquet and green topiary give the room so much character, and the textured carpet and cushions help it feel warm and cosy.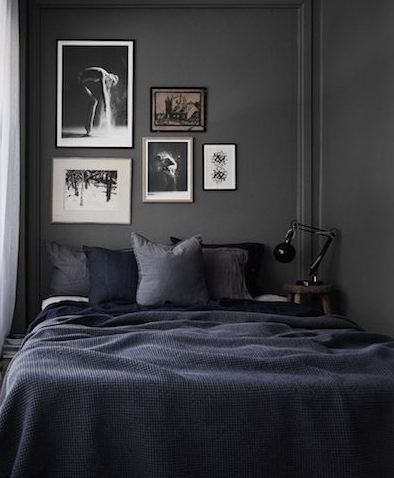 This bedroom looks so snug, I don't think I would ever want to get out of bed in the morning! The use of layered textures creates warmth, and by keeping the walls and soft furnishings tonally similar, the beautiful monochrome artwork is able to stand out.
GET THE LOOK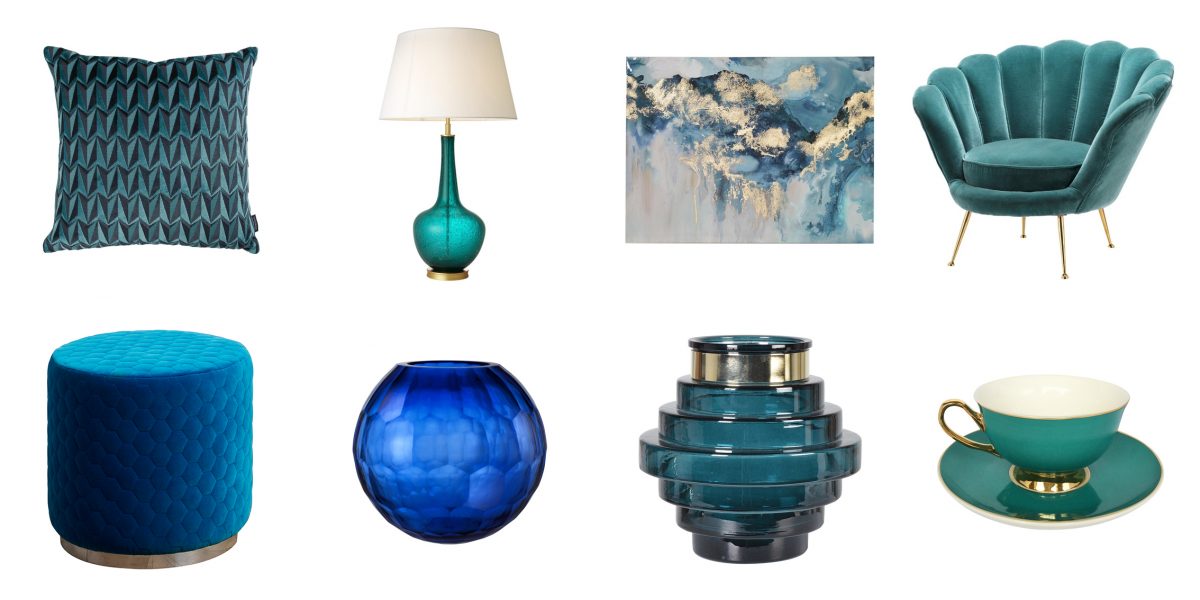 1. Kirkby 'Origami Rocketinos' Cushion – Teal, 2. Eichholtz Massaro Table Lamp,
3. Blue Mood No.5 Canvas, 4. Eichholtz Trapezium Armchair,
5. Ritzy Stool – Small – Quilted Velvet Pool, 6. Eichholtz Feeza Vase – Large,
7. Hive Candle Holder – Blue, 8. Nouveau Teacup and Saucer
GORGEOUS GREENS
Greenery has dominated the world of interiors for the past year, partly thanks to Pantone naming it 2017's colour of the year and the surge in popularity of houseplants. It's a colour that reminds us of the natural world, and can look absolutely beautiful when paired with darker tones. An earthy green gives a room a warm, classic feel, whilst a jewel tone like emerald conveys elegance.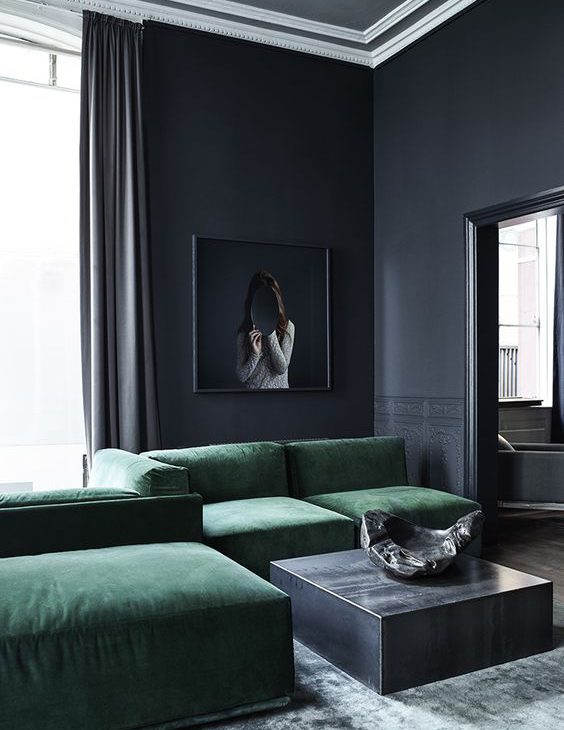 Deep emerald green velvet is so lush, looking just perfect in this stunning living area. The period details and high ceilings, contrasted with this blocky yet contemporary sofa, make for a really interesting space. Soft furnishings such as the long, heavy curtains help keep the warmth in. All this look needs is a roaring fire and a gorgeous, modern throw to curl up with.
GET THE LOOK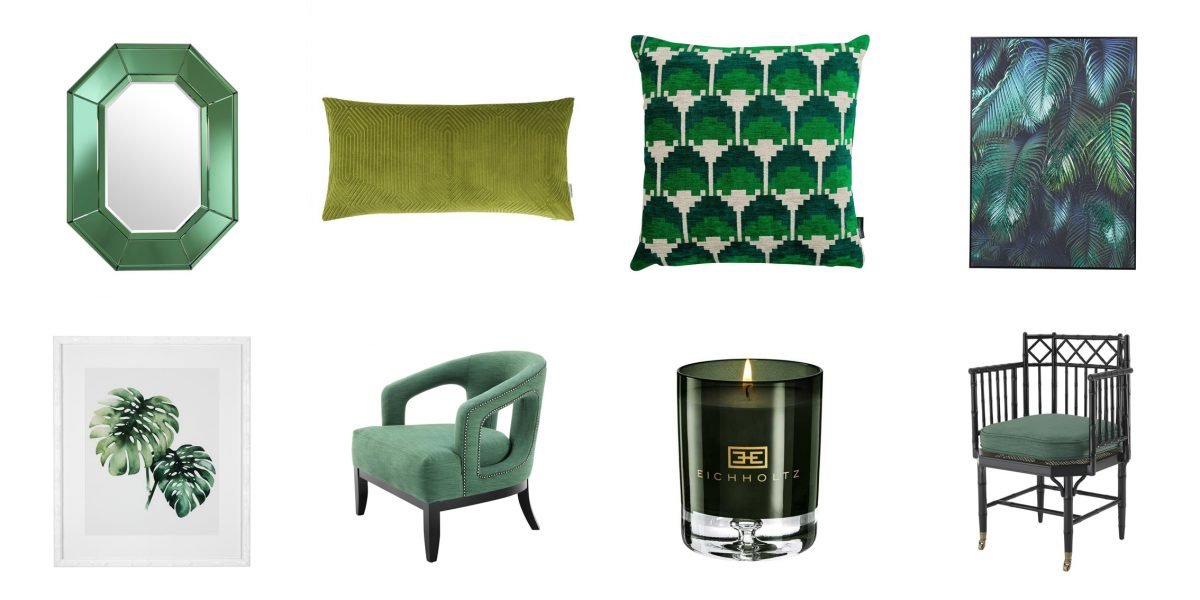 1. Eichholtz Le Sereno Mirror, 2. Designers Guild Roxburgh Cushion – Moss,
3. Kirkby Design Arcade Cushion – Eden, 4. Tropical Palms Print,
5. Eichholtz Tropical Plants Print – Set of 2, 6. Eichholtz Adam Occasional Chair,
7. Eichholtz Cypre Rose Candle, 8. Eichholtz Xavier Chair
WINTER WHITES
If your space doesn't get as much sunlight as you would like, then you may benefit by going lighter. White walls reflect lots of light, helping to make the room appear brighter and more inviting. Combine this with sumptuous soft furnishings made from thick, textured materials and plenty of candles to get that much admired 'hygge' look.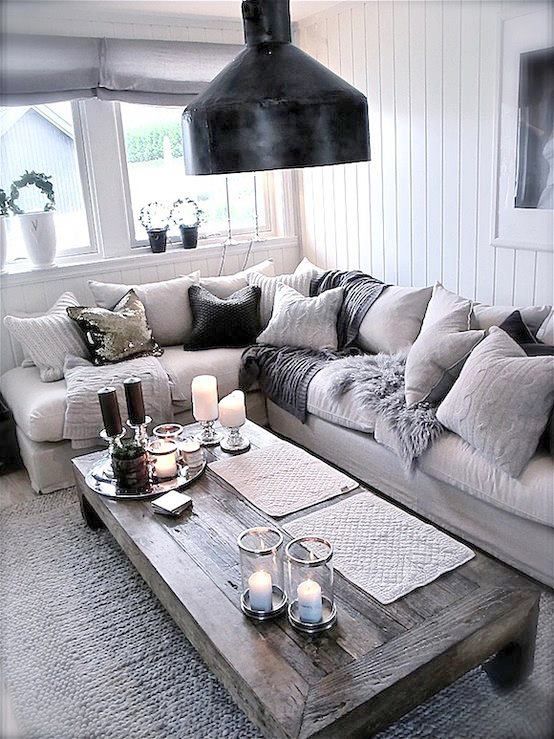 This beautifully snuggly living room looks like the ideal place to hibernate this winter. Lots of cushions and chunky throws create a squidgy, cosy country paradise to curl up in with a good book and a glass of mulled wine.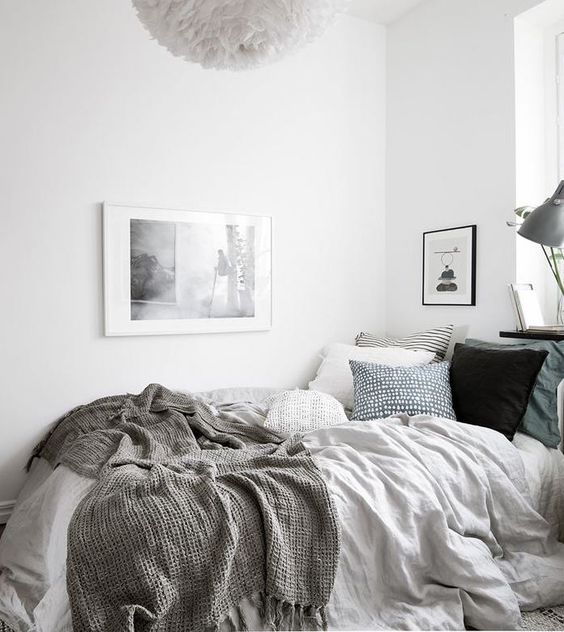 This bright space used neutral tones, combined with white walls and accessories to create a calm and relaxed space. Natural cotton, wool and linen bedding are used to bring a layered sense of warmth.
GET THE LOOK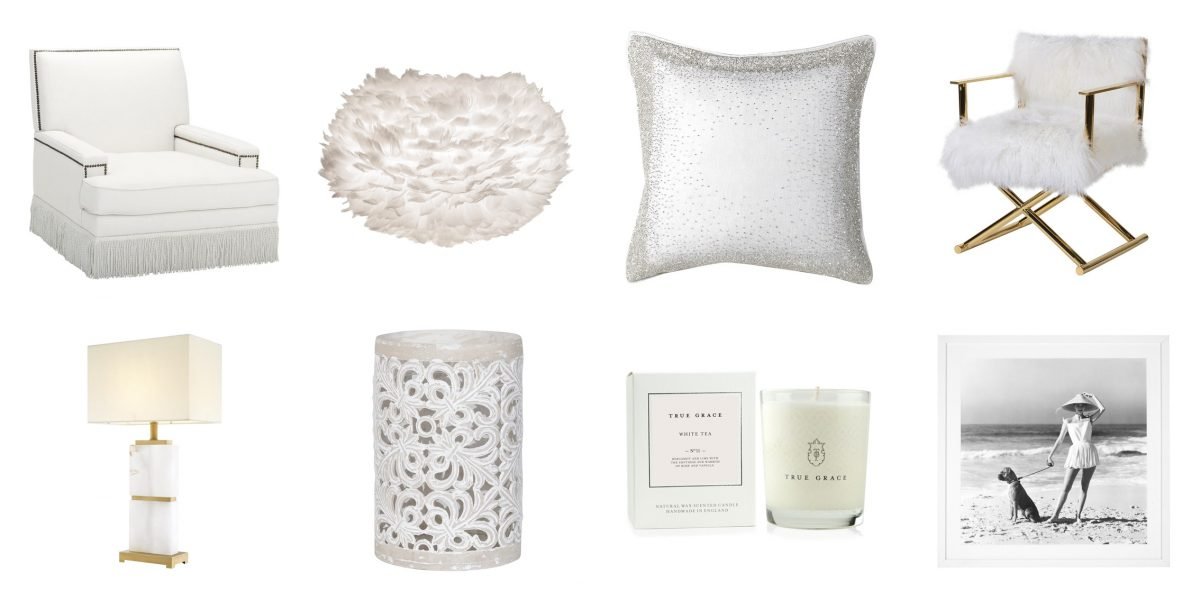 1. Eichholtz Chambers Armchair, 2. Vita Copenhagen – EOS Feather Shade – White,
3. Glimmer Cushion – White, 4. Cloud Directors Chair,
5. Eichholtz Robbins Table Lamp, 6. Lacework Hurricane Lamp – Large,
7. True Grace White Tea Candle, 8. Eichholtz Print – Vogue, 1956 I
Image sources: Pinterest