Summer is officially over; well at least we think it is. Although we're still being rewarded with the very occasional sunny day, according to our calendars we are very much in the thick of autumn. If you haven't done so already, now would be the ideal time to fold away your sun loungers and get ready to transform from summery to snugly.
Whilst everyone might not be overly thrilled that the evenings are getting chillier and darker earlier, there are some really exciting things to look forward to now we are on the colder side of the year; we promise!
It's not all doom and gloom after all with the chilly weather comes pumpkin spiced lattes, thick woolly socks and nights curled up in front of the fireplace; now who could resist the sound of that?
Along with all the lovely warming comforts, for interior enthusiasts it's a very exciting time; a welcome opportunity to switch things up a little in the abode. Luckily for our readers, we've enlisted the advice of some of the best names in interior blogging; ready to provide you with top tips on how to transform your home from summer shack to winter wonder-home.
. . .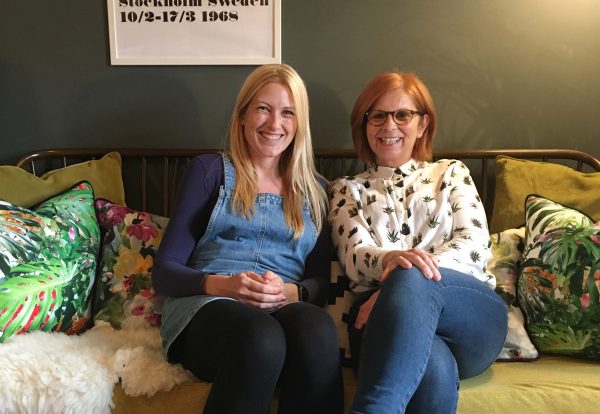 Anna Kelly and Sally Tonkin of Green & Mustard
First on our list with some summer to snug inspiration are the award-winning interior blogging duo Sally and Anna of Green & Mustard
"Rugs and cushion are a must! Ramp up your sofa with rich autumnal colours and warming textures. Velvets and sheepskins add texture and soft Berber rugs are cosy for your toes. All easily packed away for the warmer months too! Lighting is so important in any room, whether it's for a function or atmosphere – or both! Floor lamps with tasselled lampshades that keep light low and table lamps with warm LED bulbs that give a mottled, soft light. Keep white bulbs in your central light so that can be used on a dreary day when good lighting is essential for working or reading. A coffee table might seem like an off choice, but we think it makes a space feel homely. Style it for both look and function. Three is always the magic number; a stack of good magazines or books, a pretty candle plus coasters. Keep it clutter free and make sure you have plenty of space for your coffee." – Anna and Sally

Get the look!
1. Eos father lamp, 2. Mirrored coffee table, 3. New Zealand Sheepskin Rug
Thank you, Sally and Anna, for your participation!
. . .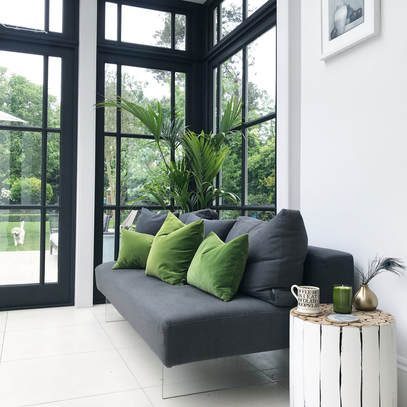 Picture by Leoma Harper
Next on our list is the lovely Leona Harper from Style The Clutter. If you haven't done so already, check out her Instagram page here, we promise you'll fall in love just like we did!
"By simply adding texture, a light airy space can instantly become cosy. Using cushions, fluffy throws, rugs and sheepskins, creates an inviting and warm snug like feel.
Add some beautiful greenery to this space along with candles and you have the perfect area for a moment of calm". – Leoma Harper

Get the look!
1. Tallulah Cushion, 2. Multi-Stem Fiscus Tree, 3. Scandi Chic Sheepskin Rug
Thanks so much for taking part, Leoma!
. . .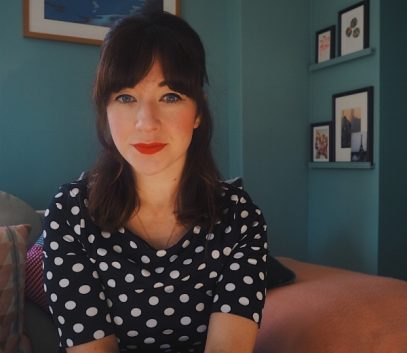 Melanie Lissack of Melanielissackinteriors
Our third participant is the wonderful colour expert and multi-award winning blogger Melanie Lissack of Melanie Lissack Interiors
"I always like one room in the house to feel like the opposite of the season; when it's hot and sunny I crave a cosy corner to read in, when it's cold I want to paint everything white, bright and light! It just mixes everything up, so I always have an alternative sanctuary to the expected. If you are craving cosy & snug then you have to have an amazing armchair to relax in. Something that adds real 'wow' factor to your room. The Bette Club Chair is padded all around to give you the utmost comfort, while still being stylish with its brass base. No snug corner is complete without a place to rest your hot drink and a good magazine, so the Saul Acrylic Side Table is my absolute dream table! This side table is perfect if your room is small as the see-through acrylic makes it feel less bulky than furniture in a block colour.
I'm obsessed with the circle trend at the moment as the circular shape is so easy on the eye. To create a bright and light room, add the large Milly mirror to your wall, preferably opposite a window. The mirror will bounce light around the room and make your space feel much more open and fresh." – Melanie Lissack

Get the look!
1. Lene Bjerre Milly Mirror, 2. Saul Acrylic Side Table, 3. Bette Club Chair
Great advice, thanks, Melanie!
. . .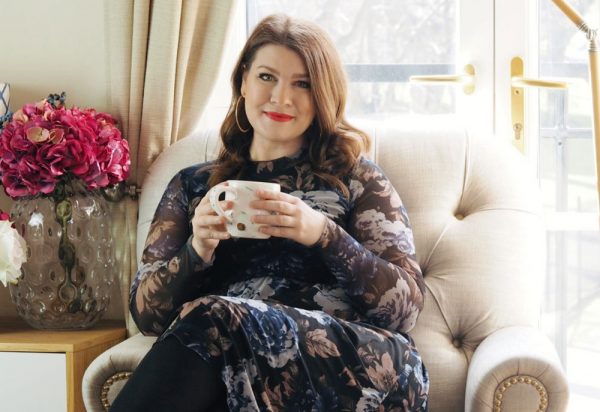 Victoria Jackson of Apartment Number 4
Number four on our list is coincidentally the founder of multi-award winning blog Apartment Number 4's Victoria Jackson!
"Making the transition from summer through to the colder months of autumn can be the perfect time to refresh your living space. A new season brings new chances to switch colours, add texture and make your home feel cosy and welcoming on chillier evenings. One of the biggest changes you can make is alerting the ambience of a room by considering your lighting. We might not all have the glow of logs burning on the fire, but by adding a well-placed side lamp and floor light, you can create a warm, inviting space. What better time to also consider adding deeper tones such as blues, purples, greens, alongside signature autumnal shades such as burnt orange and mustard ­ cushions and throws being the simplest way to make subtle switches season after season." – Victoria Jackson

Get the look!
1. Ruben Table Lamp, 2. Black Edition Herbaria Cushion 3. London Navy Throw
Thank you so much, Victoria!
. . .
Jenna and Mariana of Interiorfox
Last but certainly not least are the lovely ladies and E-design experts Jenna and Mariana of Interior Fox
"Transitioning from the cool shades of a pastel summer to a warm and cosy winter doesn't have to be a difficult process. First, we love to re-introduce the saturated jewel tones to really ramp up the contrast within the colours of the home. Secondly, it's the perfect time to play with texture and bring in multiple types of fabric for a warm layered look. Think velvet, mohair, and heavy cotton! Lastly, you can't beat oversized winter accessories such as oversized sheepskins, wheel-able wine suitcases, and crystal glass candle holders, for that travelled luxury feel. Bring on the cosiness!" – Jenna and Mariana

Get the look!
1. Ariel Chaise Longue, 2. Eichholtz Pall Mall Stool 3. Eichholtz Wine Cabinet
How fabulous are these mood boards? Thank you, ladies!
So there you have it, five top tips from some of the hottest names in interior blogging right now, we hope this will help to ease you into your summer to snug transition comfortably and snugly!
Images by: A Modern Grand Tour, Leoma Harper, Victoria Jackson, Green & Mustard, Melanie Lissack, Interior fox.