If it's been a long week already for you, it's time to raise a glass (yes mid-week) because London Cocktail Week is in full swing. That's right; the annual mixology festival is back and ready to serve up all of your favourite tipples from Margarita's to Manhattan's, now there's something to celebrate.
With well over 300 bars participating this year, we understand it might be somewhat challenging to visit them all. Fear not, out of the kindness of our gin-infused hearts we have compiled a list of 5 of the best autumn/winter inspired cocktails; sure to wet and warm your whistles in the coming chilly months.
RIESLING HOT TODDY
SERVES 4
Who doesn't love a good Riesling? It's the perfect summer white; very crisp but sweet with citrusy notes. Although it's a great summer tipple we've found a recipe to transform it from summer standard to autumnal approved.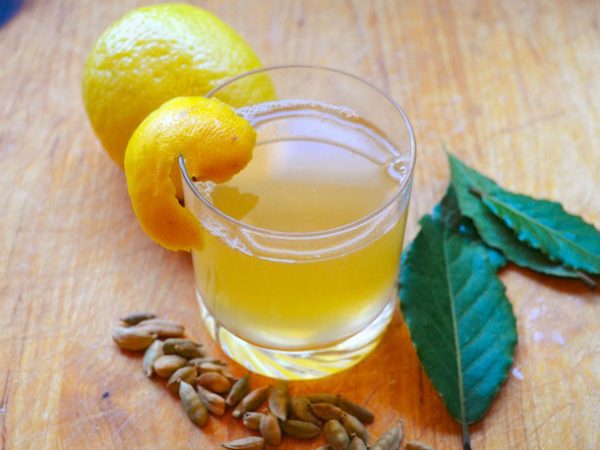 Seriouseats.com | Sydney Oland
WHAT YOU'LL NEED
4 cardamom pods
1 (750 millilitres) bottle Riesling
2 teaspoons brandy
2 tablespoons honey
2 bay leaves
1 lemon, halved
4 strips lemon zest (Garnish)
HOW YOU'LL MAKE IT
Toast cardamom pods in a dry skillet over high heat, tossing often, until fragrant, about 3 minutes. Gently crush with a mortar and pestle.
In a medium saucepan combine Riesling, brandy, honey, cardamom pods, and bay leaves. Squeeze lemon halves over liquid and add rinds to the pot. Bring to a gentle simmer then reduce heat to lowest setting and steep for 45 minutes. Strain and divide between 4 cups. Garnish with lemon zest.
MARY ROCKETT'S MILK PUNCH
25 SERVINGS
We all love a Rum punch, but replace the Rum for a fine Cognac, grate half of a nutmeg and my are you in for a surprise. A golden oldie with the formula dating back to 1711! Treat yourself with this spicy winter tipple!
Jamesbeard.org | David Wondrich
WHAT YOU'LL NEED
2 lemons
1-quart V.S. or V.S.O.P. Cognac
1 cup sugar
3 ounces lemon juice
1-pint whole milk
Half of 1 nutmeg, freshly grated
HOW YOU'LL MAKE IT
Using a vegetable peeler, peel lemons, avoiding the white pith as much as possible. Put the peels in a sealable, 2-quart glass container and pour Cognac over them. Cover and let sit for 48 hours.
Add sugar and lemon juice to the lemon-infused Cognac. Heat whole milk until scalding hot, then add to the cognac mixture and stir until the milk curdles. Stir in the grated nutmeg and let the punch sit for 1 hour.
Strain through fine cheesecloth or paper towels, bottle, and refrigerate. To serve, pour from chilled bottle into sherry glasses. If the punch is too thick, add a little seltzer or, during winter, hot water.
BOULEVARDIER
SERVES 1
A classic beverage with a bit of a modern twist; a Negroni just minus the gin and adding some whiskey (good news for all you whiskey lovers). Adding Bourbon will undoubtedly put the hairs back on your chest in time for the chilly spell.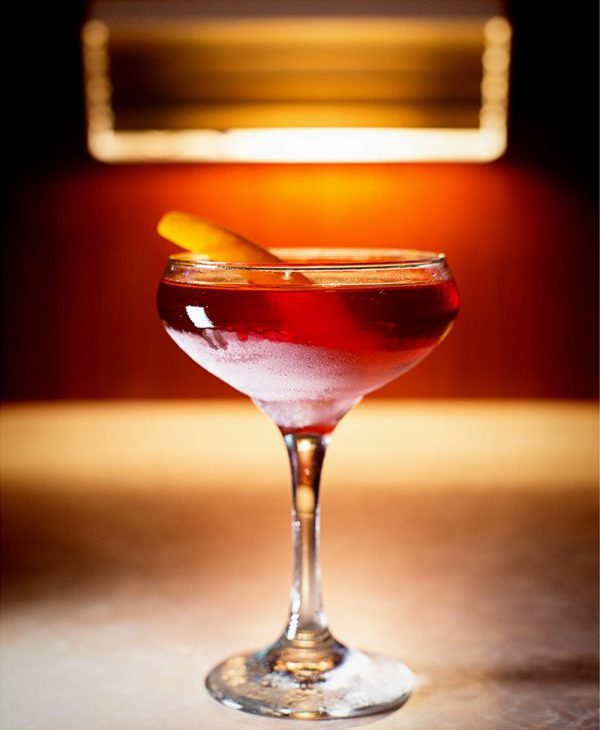 Pinterest | Elizabeth Griffin | Esquire | Jonathan Evans
WHAT YOU'LL NEED
1.5 oz rye whiskey
.75 oz Campari
.75 oz sweet vermouth
HOW YOU'LL MAKE IT
Stir ingredients with ice, then strain into a coupe glass. Serve up and garnish with an orange twist.
PORTO SANTO
SERVES 1
Cointreau and spiced rum together? Yes, please! Rum lovers rejoice as this one's for you, we can already imagine being tucked up in front of the fireplace with one of these!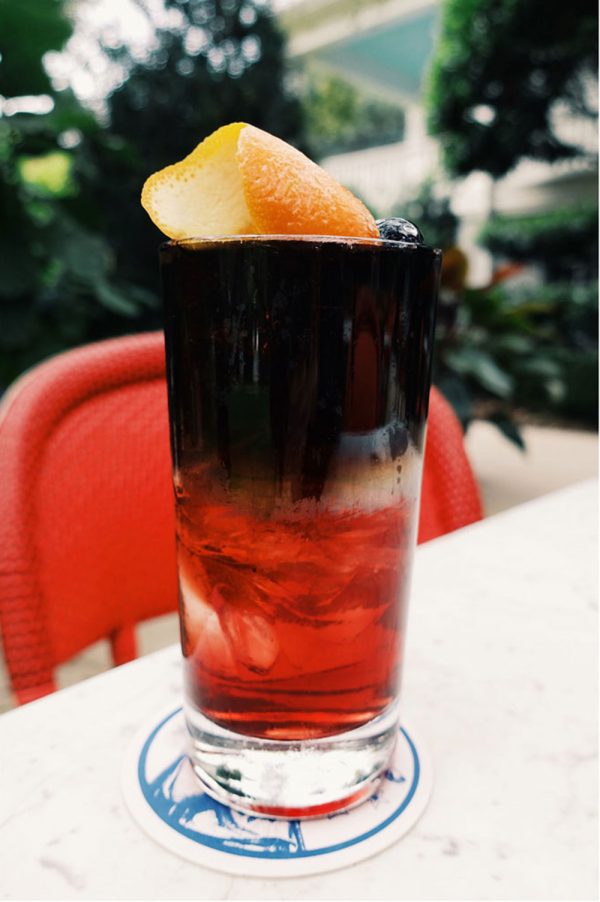 Hotel Saint Cecilia, Austin | Pinterest
WHAT YOU'LL NEED
1 oz Blandy's Madeira
1 oz Crusoe spiced rum
.5 oz Cointreau
.5 oz red wine
HOW YOU'LL MAKE IT
Place all ingredients in a cocktail shaker. Mix well. Serve over ice and garnish with an orange peel and maraschino cherry.
JACK HORNER
SERVES 1
One of the more complex cocktails on our list, sure to test you on your mixology skills, a cocktail that tastes just as good as it looks.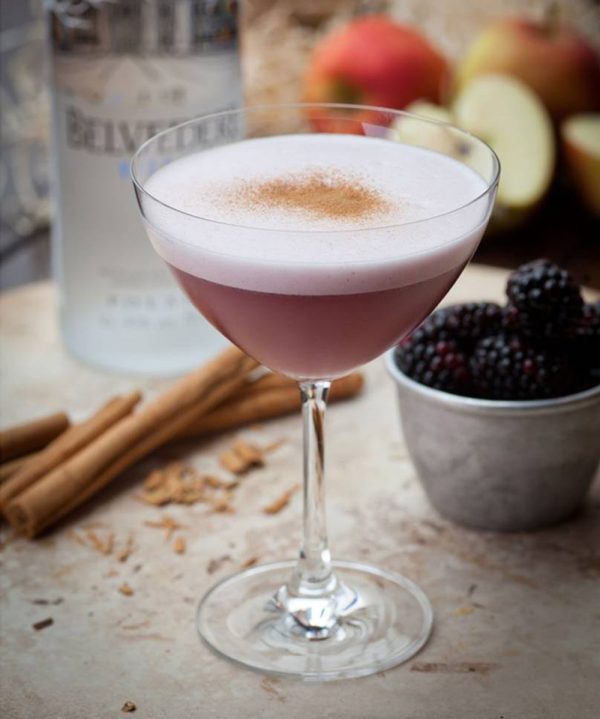 House | House & Garden
WHAT YOU'LL NEED
3 blackberries
50ml Belvedere vodka
15ml cinnamon syrup
20ml fresh lemon juice
Dash egg white
Pinch of ground cinnamon (garnish)
HOW YOU'LL MAKE IT
Muddle blackberries in the base of a shaker with cinnamon syrup.
Add the other ingredients (except the cinnamon) and shake to emulsify the egg white.
Add ice cubes. Shake.
Strain into a glass and garnish with cinnamon
---
Whatever tipples tickle your fancy, we hope you've found your new winter favourite somewhere on our list. We're happy to accept the thanks in advance, and our most sincere apologies for any hangovers formed in the completion of this list.