More than simply being a place where meals are often shared, the dining area is the heart of the home. It is a place to gather, connect and talk; a place where important milestones are celebrated, relationships are built, and experiences are shared.
Considering this, choosing the perfect dining table and dining arrangement are a big deal. Our editors at Sweepea & Willow HQ have picked 4 incredible, styled dining areas to give you some inspiration for yours, so you can turn even the most ordinary meal times into delightful occasions.
---
UNDERSTATED GLAMOUR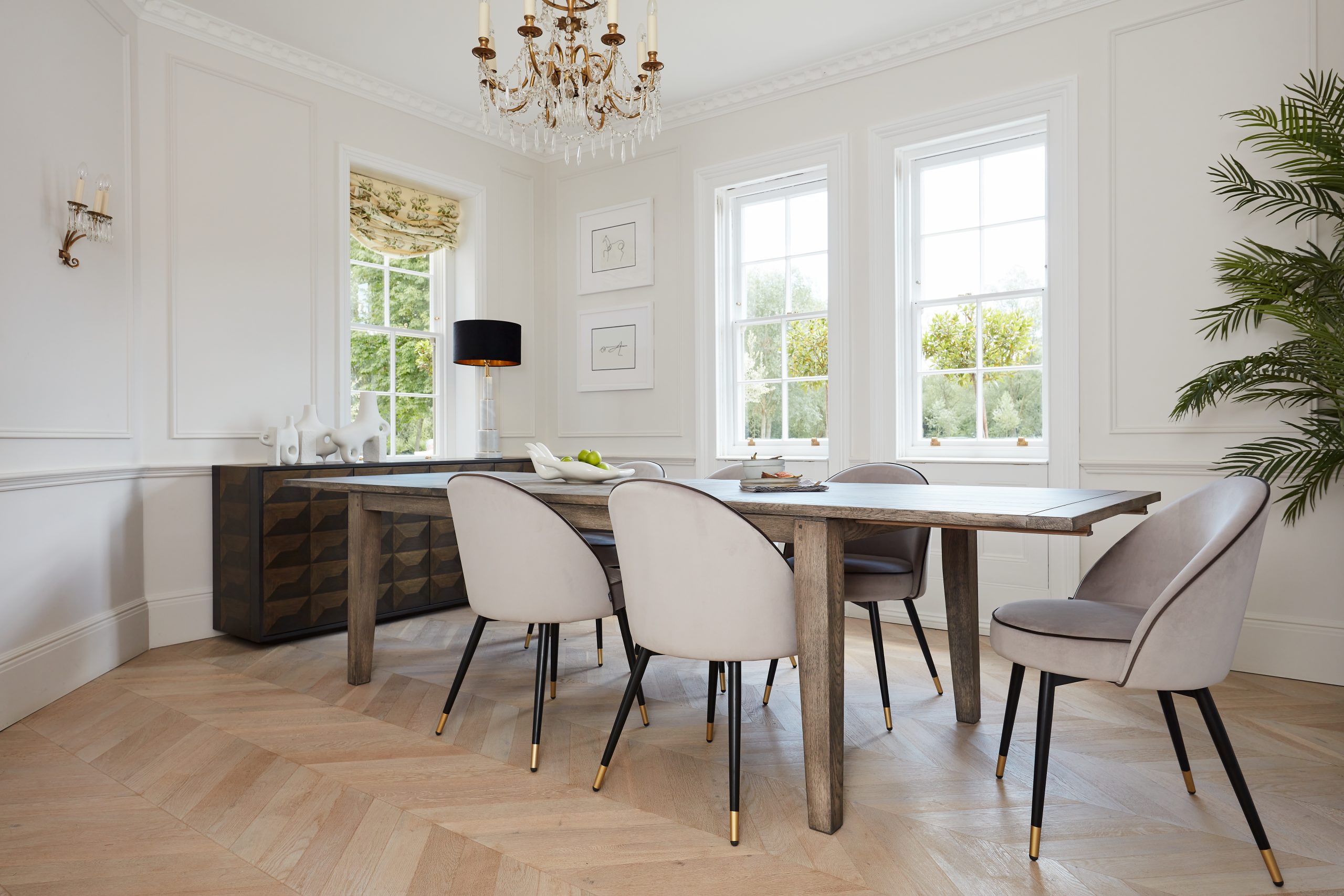 This stylishly modern dining arrangement uses natural materials and beige tones to create an inviting space, and the luxurious black and gold accents add extra glam. The fun begins with the Hampstead Extendable Table by Handmade in London as you can comfortably accommodate more guests and – the more, the merrier! This look is accompanied by a stunning geometric sideboard for adding depth and colour. It is a wonderfully versatile setting for elegant dinners and casual lunches alike.
GET THE LOOK
HOLLYWOOD GLAMOUR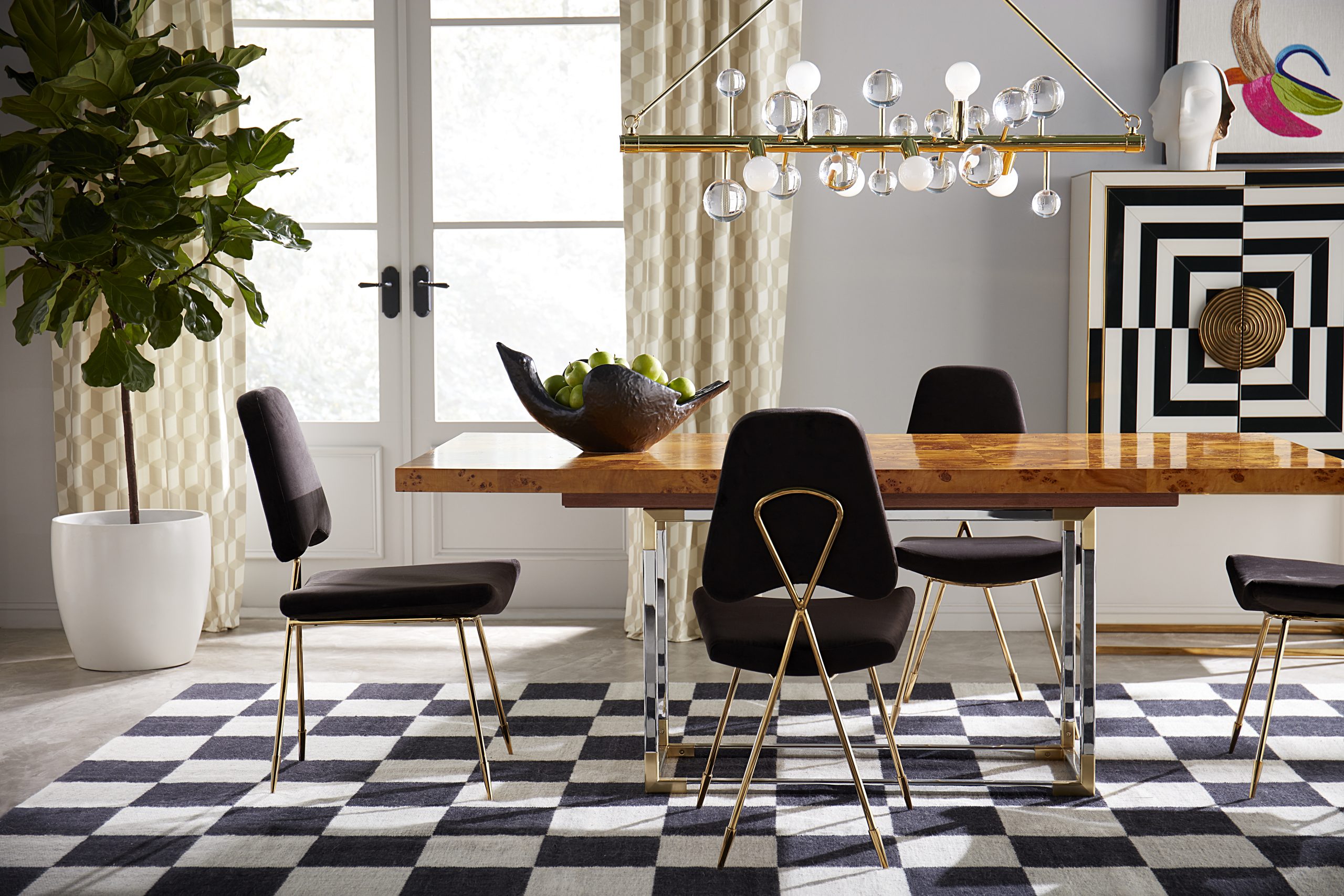 Stylish, chic & classique – this luxurious Hollywood-style arrangement is the perfect example of a modern dining space that combines a variety of indulgent textures and materials in a cohesive way. The extendable Bond Dining Table is made from burled, Mappa wood and is accompanied by gorgeous, charcoal coloured velvet chairs – both are accentuated by polished brass details. This considered, curated look exudes effortless glamour and sophistication.
GET THE LOOK
CONTEMPORARY SCANDINAVIAN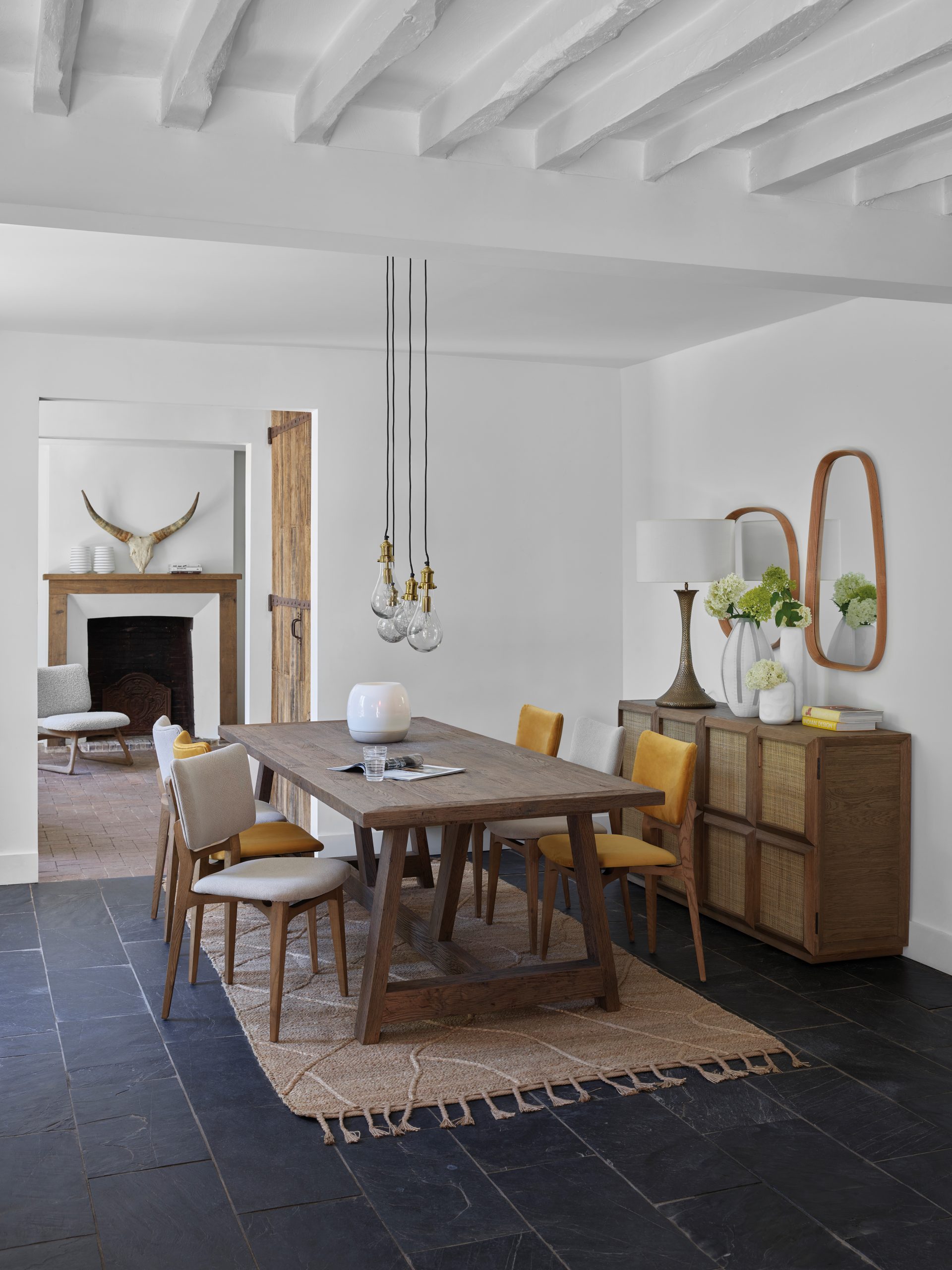 True to classic Scandinavian design, this minimalistic space makes use of natural materials and neutral colours. These calm, relaxing tones create the perfect atmosphere for switching off and releasing the stresses of the day. Crafted from solid Oak, the Malo Dining Table is simple but structurally intriguing and effortlessly anchors this space. The stylish rattan sideboard is functional and adds visual interest and the beige linen and yellow velvet dining chairs complete the look.
GET THE LOOK
TIMELESS ELEGANCE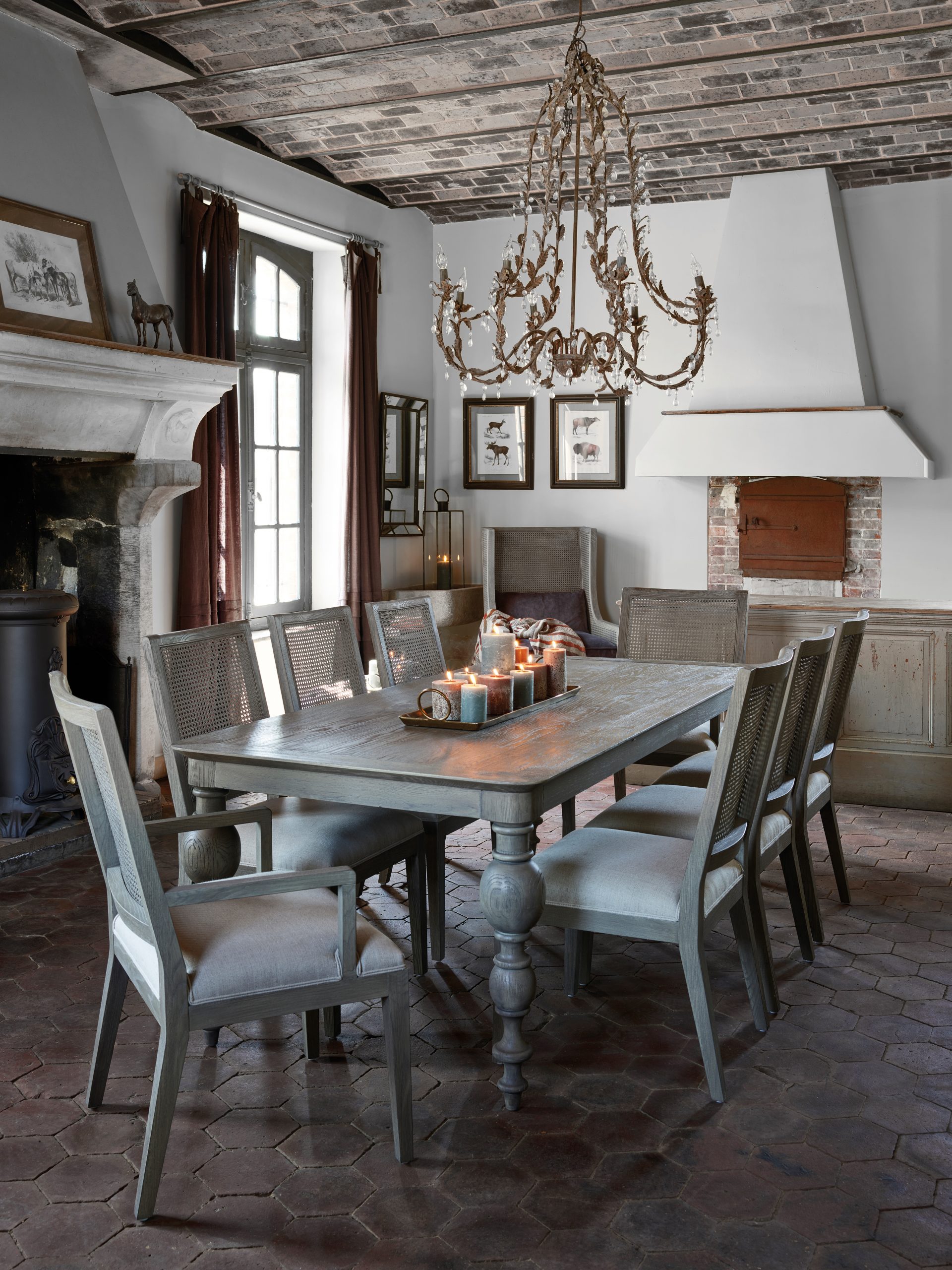 For a more traditional, vintage look, this dining arrangement is perfect. With its classic design and antique finish, the Ida Dining Table is perfect for defining a traditional space. This dining arrangement carries an air of antique elegance with its grey tones, luxurious finishes and timeless rattan webbing, and will help you create an authentic, classical dining space that stands the test of time.
GET THE LOOK
ANTIQUE EXCELLENCE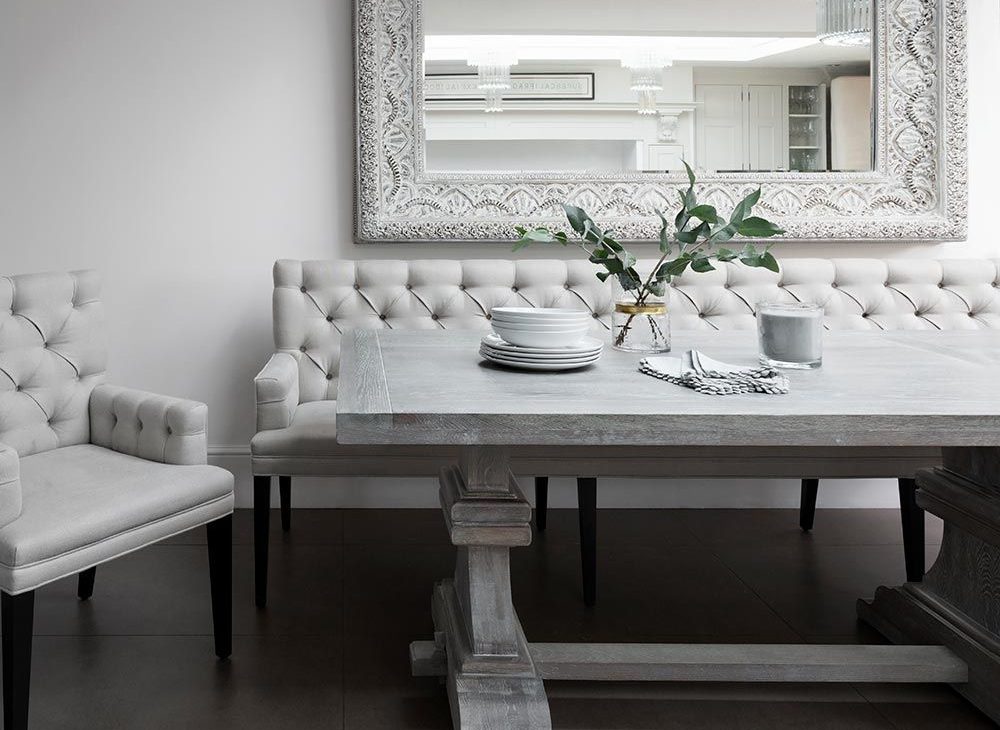 This elegant dining area uses a lovely white and grey palette to achieve an effortlessly antique and distressed look without appearing aged and worn, and utilises elaborate detailing, such as the deep-buttoning and intricate carvings, for added charm and definition. The Cheshire Dining Table in a New Grey Oak is beautifully versatile and perfect for all dining occasions.
GET THE LOOK
---
We hope these styled looks have given you some inspiration for your own dining area.
If you enjoyed this blog, please let us know by clicking the heart ♡ below!
Image Credits: Featured Image and Hampstead Lifestyle Image: @roozphoto