Newsletter Signup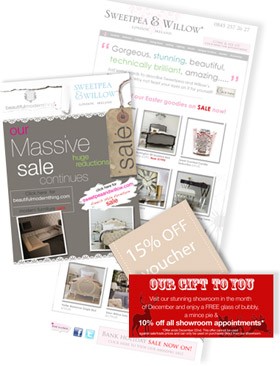 Every month or so we send out a newsletter that is full to the brim with goodies:
this season's must haves.
a tempting selection of our lovely new arrivals.
exclusive offers and promotions.
behind-the-scenes insight into the Sweetpea & Willow brand.
the opportunity to be first to participate in our giveaways and competitions.
information about special events in-store or online.
So sign up for your essential guide to Sweetpea and Willow now!
We vow to keep your privates private!
We promise we will never use your email address for anything other than this newsletter. So no sharing your information with any 3rd parties! By signing up to our e-newsletters you agree to allow us to send you the letter, but don't panic! You will be able to unsubscribe at any time by using the unsubscribe link on any newsletters we send you.