Delivery Information
We will deliver to the ends of the earth for you.

No Quibbles Return!
We're sure you'll love our products just as much as we do, but just in case you change your mind we are happy for you to return your goods for a refund*. Please just make sure you let us know within 14 days noting that the products must be in a resalable condition and that we also require the original packaging so we can give them a brand new home.
(*Some exclusions apply, 'Bespoke goods' and 'Mattresses' for example. Please see full T's & C's for further info)
If there's something we missed, please pop onto out FAQ's or give us a call.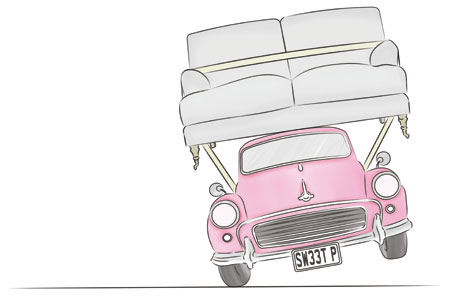 Important Checks BEFORE Ordering
Please note that all items delivered beyond the threshold of your home are carried out at your own risk. The following handy little check list will help to ensure that we conduct a successful delivery into your home.
ADEQUATE FLOOR PROTECTION - Please ensure you have placed adequate covering to protect your lovely flooring or carpets. Due to health and safety the delivery team cannot remove any clothing or footwear.


BREAKABLE OBJECTS - Knocks and falls sometimes happen so it's always best to remove anything that might break, or get damaged along the delivery pathway before the team arrives.


ACCESS IN PROPERTY - There is nothing worse than having your products delivered just to find it doesn't fit in or around your home. Always look out for twisty passages, low doorways and dog-leg stairs. You also need to make sure our delivery van can make it close enough to your home. Please speak to us beforehand if you're not sure. If we can't deliver to your requested room we will either leave the furniture at a place convenient to you, or we will take it away (lost delivery fees and restocking fees may apply). Should our logistics team feel that there is a danger to your property and equally to them in delivering large items upstairs, they may refuse to do so.


ACCESS CHECKS AVAILABLE - We know that sometimes it can be confusing to measure correctly, so if you would like our experts to assess your property in advance, just let us know! This service is currently only available in London within the M25 radius and outskirts at a cost of £100. Should you then place an order and have a successful delivery then we'll give you back £50. Please contact us for further information and bookings.


ACCESS ISSUES AND CUSTOMER DECLARATION - We encourage our drivers to go above and beyond to make sure your delivery goes as smoothly as possible, but sometimes their dedication to help get your sofa in place could result in an accidental mark or two on your walls if your access is very narrow. The delivery team may ask you to sign a declaration saying that you understand and are happy for them to proceed with the unlikely chance that something may get damaged or marked. If you would prefer not sign this then we will only be able to deliver the goods to your front door.


PARKING - If your property has parking restrictions, it's very important that you let us know in advance so we can plan. If a parking permit is required, you must arrange this. Any problems with parking availability which result in a failed delivery or parking ticket, will be chargeable to the customer.


FAILED DELIVERIES - Failed deliveries unfortunately come with a cost. With route planning, vehicle space allocation, drivers road time, there are costs which we cannot claw back. If you need to make changes to your delivery date, please give us plenty of notice so we can avoid lost fees. A minimum of 24 hours notice is required to cancel or re-schedule a delivery to avoid incurring extra fees.


DELAYED DELIVERIES AT CUSTOMERS REQUEST – If your order is ready for delivery but you realise you need a bit more time to finish your home renovation, just let us know! We want to keep our warehouse moving all the time where possible, but if you cannot take delivery straight away, we are happy to store your items for a maximum of 4 weeks (free of charge) to help you out! (After 4 weeks, we reserve the right to charge storage fees of £75 per cubic metre per week. This can be discussed when required. Please note, clearance, ex-display or sale items will not be held and must be collected or delivered within 2 weeks of purchase).
Delivery / Collection Options
Standard delivery to your room of choice (subject to access) and removal of packaging
White Glove delivery to room of choice (subject to access), removal of packaging and full assembly (excluding electrical items)
Post is for all the small, non-breakable items (like candles and bed linen)
Customer Collection from 15 The Metro Centre, Isleworth, Middlesex, TW7 6NJ. Be sure to bring photographic identification (drivers license/passport)
To find out the cost of delivery please proceed through to checkout and simply fill in your postal address. Your delivery options will then appear. Alternatively, just add the desired items to cart. You'll find a postcode delivery cost calculator on the shopping cart page.
Your Delivery Date / Time
Deliveries are 'generally' made between Monday to Friday 8am – 4pm to London and surrounding areas. Times may vary for other areas.
Our furniture is delivered to London and surrounding areas by our own drivers. Deliveries further afield are delivered via consolidated furniture vehicles to keep costs competitive. Once your furniture order is ready for delivery, you will be contacted and given a delivery date. The day before your delivery, you will be contacted again and given a 2-3 hour time slot. If you cannot be available for delivery, you can ask for it to be delayed until the next available date our team are in your area. Unfortunately, you cannot select a specific date. We appreciate that most people work during the week and it is sometimes difficult to arrange delivery dates and times that suit. Therefore we are happy for your friends or neighbours to accept delivery and then sign for the goods on your behalf. Just be sure to tell them to check the goods before signing!
Please note that we will always aim to complete your order and deliver all items together in a single delivery. Part-shipments are also available upon request (at an additional cost). Please just speak to us about this.
Collecting From Us
You can collect your goods directly from our warehouse in Isleworth, Middlesex, TW7 6NJ. Please be sure to bring photographic ID with you (drivers license/passport). This is essential for us to release the goods.
You can also send your own arranged transportation company to collect from us. When doing this, we need an email in advance from you confirming the name of the company who will be collecting. We also require that this is booked in with us (either by you, or your delivery company) so we can be prepared for the collection. We will then take a signature from the driver on collection. Whether it's yourself or someone on your behalf, please understand that no claims can be made for damaged goods once the collection note has been signed.
Delivery Area
Our logistics team travel far and wide to deliver your Sweetpea & Willow products. We cover all of mainland UK, Northern and Southern Ireland, France, Spain and beyond! Please see our separate international enquiries section. Wherever your property is, rest assured we will do our best to ensure your furniture arrives safely and on time.