Art Deco Furniture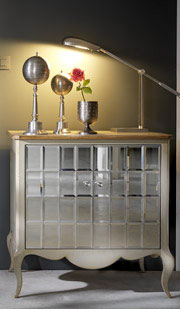 Art Deco is a decadent and luxurious style of architecture and design which flourished in the 1920s and 1930s. Art Deco retained the natural motifs of Art Nouveau but further stylised and abstracted them, creating striking graphic designs. Colours also became less realistic, moving towards bold contrasts of black, white and silver and also the characteristic pastels of Miami architecture.

Art Deco was inspired by Cubist art, such as the paintings of Picasso with their creation of abstracted images of reality though distorted space and geometry. Influences were also taken from Russian Constructivism (particularly in bold geometric fabric designs) and Italian Futurism. The modern age of air and sea travel resulted in stylistic influences being drawn from around the world; folk art from Africa and exotic animal skins such as zebra became very fashionable, as did Ancient Egyptian motifs after the discovery of the tomb of Tutankhamun in 1922. In turn Art Deco also influenced the world of travel; ocean liners, train stations, airports and airplanes all embraced the style with its streamlined, elegant modernity.

Art Deco is a very glamorous style, influenced by early Hollywood; the fashion and sets of the silver screen filtered through to interior design: metallic fabrics, romantic and atmospheric lighting, and elegant mirrored surfaces. Cocktail cabinets and smoking paraphernalia became highly fashionable. Hollywood glamour can also be seen in upholstered and button-studded beds, sofas and armchairs, often covered in shimmering metallic velvets.

Art Deco furniture employed light reflecting materials such as chrome, glass and mirror to fashion coffee tables, console tables and dressing tables. Art Deco lighting often featured female figures, perhaps posed as dancers. Lights were made from chrome and glass, the glass was often etched, sandblasted or enamelled rather than coloured like Art Nouveau glassware.

Wall lights in monochrome and silver cast romantic light and dramatic shadows.

Art Deco interiors often featured large and elaborate chandeliers hanging in imposing hallways or decadent dining rooms.