Art Nouveau Furniture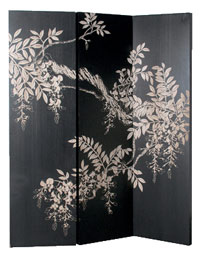 Art Nouveau (French for New Art) was an international movement and style of fine art, architecture and decorative art that peaked in popularity at the turn of the twentieth century (1890–1905). Art Nouveau was in part influenced by the naturalistic details of the Rococo style and took from the Art and Crafts movement its reverence of good craftsmanship. Art Nouveau had two strands, the European style which flourished in France, Belgium and Czechoslovakia and was characterised by sinuous, elegant lines inspired by nature and the female form; and the more austere and geometric approach of the Scottish architect and designer Charles Rennie Mackintosh.

Art Nouveau was developed by a brilliant and energetic generation of artists and designers, who wanted to create an art form appropriate to the modern age but inspired by nature and beauty. Society was changing tremendously at this time, the Industrial Revolution brought many more people into the burgeoning cities, creating urban life as we now know it. Technological advances and new materials such as cast iron allowed artists to create previously impossible shapes and structures. While many artists, designers and architects were excited by these new technologies and lifestyles, others retreated into the past, embracing the world of fantasy and myth in their designs.

In Art Nouveau interiors sinuous natural forms wrapped themselves around mirrors. Elegant floral and foliate designs adorned soft furnishings such as cushions. Dynamic, undulating and flowing lines could be seen on all furniture, ornaments and jewellery.

Art Nouveau was strongly influenced by Japanese art, particularly its use of black lacquer and natural motifs on bookcases, beds, chest of drawers, and dressing screens.

The vases and lamps of Emile Galle broke new ground, drawing on ancient Eastern methods and imagery while exploiting modern industrial techniques. The beautiful and delicate glass lamps of Louis Comfort Tiffany employed a myriad of beautiful colours to render their intricate naturalistic designs. Rene Lalique (later known for his incredibly elegant Art Deco glassware) was a leader in the field of jewellery. His work was inspired by flowers, birds, insects, mythical creatures; all executed in gold, silver, glass, enamel and precious or semi-precious stones.