Rococo Furniture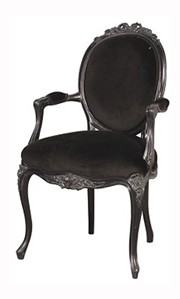 Furniture (from the French King Louis XV who reigned from 1715 to 1774). The word Rococo is as a combination of the French word rocaille, or shell, and the Italian barocco, or Baroque.

The Baroque style had flourished under the previous French king, Louis XIV. It was characterised by strong, dramatic and symmetrical forms. With the change of monarch came a change of style, architecture and furniture began to embrace a lighter and more elegant aesthetic, although in time the Rococo would to be criticised for being frivolous. The Rococo style displays an interest in delicate and playful natural forms, particularly shell and wave-like motifs that are often seen on the legs of armoires, tables and chairs. Seashells and foliage are also often carved onto beds and into the frames of mirrors.Decoration tended to be asymmetrical, moving away from the strong symmetry of the Baroque.

By the 1730s the Rococo style had reached its height in France. The style had moved beyond architecture and furniture into the worlds of painting and sculpture. Rococo painting is exemplified in the erotic, pastoral and sentimental paintings of Antoine Watteau and François Boucher. Rococo maintained the Baroque taste for complex natural forms and intricate patterns, but it had begun to integrate other very different elements, such as Oriental and exotic designs as well as asymmetric compositions.

Rococo sculpture tended to be on a smaller scale than the Baroque, often executed in porcelain. Étienne-Maurice Falconet is perhaps the most famous Rococo sculptor, he was also the director of the famous porcelain factory at Sèvres. Instead of themes of war and classical antiquity, Rococo art focused on love, eroticism and gaiety, rendered with sinuous naturalistic lines and asymmetrical designs.

The lighthearted and intimate themes of the Rococo were best expressed in more intimate settings, namely interior design, furniture, lighting and soft furnishings. This was in contrast to the Baroque which reached its zenith in great architectural projects and grand marble sculptures. With the Rococo, the French upper classes and aristocracy had the perfect elegant and flamboyant new style with which to decorate their grand homes.

The Rococo in England was always thought of as the "French taste." While English architecture remained largely untouched by the Rococo, the decorative arts such as silverwork, porcelain,and fabrics were strongly influenced by the continental style. Thomas Chippendale transformed English furniture design through his adaptation and refinement of the style. Shimmering and elegant upholstered silk bedheads and sumptuously upholstered chaise longue decorated the bedrooms and salons of the wealthy. This style was a world away from the heavy and dramatic carved wooden beds and armoires of the Baroque period.

The Rococo style began to fall out of favour in the early 1760s when influential figures such as the writer and philosopher Voltaire began to criticise it for being superficial and representing a degenerate society. By 1780, Rococo had passed out of fashion in France, and had been replaced by the order and severity of Neoclassicism.