Contemporary Furniture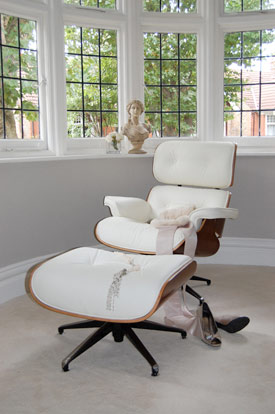 Modernist design shared a dislike of ornamentation with the Arts and Crafts movement; while twentieth-century architecture became geometrical and stark, interiors became more open-plan and sparsely decorated. A radical new approach to interior design was born in which individual pieces of furniture were so striking that they almost became sculptures.

Designers embraced new technologies and mass production, using materials such as tubular chrome, bent plywood and fibreglass. Artists and designers used abstract motifs and bold primary colours mixed with white and earthy tones. Lines were smooth, simplistic and often futuristic.

Charles and Ray Eames redefined our vision of the chair and created many design classics that are still very much revered today. The furniture of Marcel Breuer and Le Corbusier, fashioned out of leather and chrome (see their contemporary chairs here), was designed to sit perfectly within their modernist architecture.

The bent plywood designs of Alvar Aalto exude warmth and comfort, the organic shapes and striking colours of Arne Jacobsen look futuristic even now, while the space-age moulded fibreglass designs of Eero Saarinen are still the epitome of cool.

Contemporary lighting design is dramatic and innovative, simple and stark lines and gravity defying structures can be seen in floor lamps and pendant lights, often industrial in look and fashioned out of polished chrome.

Post-Second World War interiors often included rustic wooden sculptures, lamps and mirrors inspired by nature and folk art.

Interiors embraced a more informal living style based around low coffee tables with rugs and cushions used for extra seating and lounging.