Nordic Furniture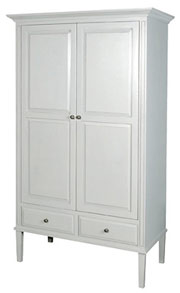 In Scandinavia in the eighteenth and nineteenth centuries there was a rather more subdued approach to architecture and furniture design. Swedish Gustavian furniture (from the reign of King Gustav which began in 1771) displays simple classical elegance and was often painted in muted pastel shades. The Scandinavians gradually rejected overblown Rococo decoration in favour of a more classical simplicity, any decoration was kept elegant and refined.

This Nordic style evolved as a way of getting as much light as possible into interiors during the long dark Scandinavian winters. Walls would be whitewashed and floorboards bleached or limed. Window coverings were kept simple to allow light to flow freely into rooms, no heavy brocaded curtains here! Wood from the surrounding countryside was used not only to build the houses themselves but also to furnish the interiors. Hand carved and simple, this is a relaxed style – a world away from the typical nineteenth century Victorian interior with rich dark colours, heavy upholstered furniture and clutter.

Chairs, dining tables, dressers, sideboards and mirrors were painted in a uniquely Scandinavian palette of mid-blue, apple green, straw yellow, cream and pearl grey (or Nordic grey). These pale pastels were both were aesthetically pleasing but also eminently practical colours given the long dark winters. Nordic furniture is often distressed for a more rural, rustic look. Swedish folk art motifs are stencilled on walls and furniture. Soft furnishings emply simple cotton and muslin, patterned with gingham checks or muted florals.

Scandinavian furniture and interiors were influenced by the English Art & Crafts movement, with a great emphasis being placed on craftsmanship and simple beauty, echoing William Morris's ethos "Have nothing in your houses that you do not know to be useful or believe to be beautiful." The simplicity of Scandinavian design, together with it ever popular pale colours make it eminently suitable for most interior decors, even the most modern.