Geogian Furniture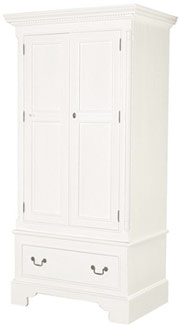 Spanning the early 1700's to the early 1800's the Georgian period, was named after the first four King Georges. Unlike Rococo or Victorian furniture, Georgian furniture was more simplistic by design.

Georgian furniture designers did away with ornate carvings or cabriole legs typical of the Queen Anne era and favoured a cleaner aesthetic that echoed the English return to Neo-Classical design.

The period was heavily influenced by the renowned furniture designers Thomas Sheraton and George Hepplewhite. Their taste for turned or square-tapered table and chair legs helped differentiated this new English design from the existing, popular French designs.

Typical Georgian furniture designs included the classic two-over-three drawers seen in our chest of drawers and dressers, the use of solid brass handles, shaped bracket feet, leather paneling with gold tooling, satinwood and yew wood cross-banding, and astragal glass moulding. Many of these features and designs were retained by Victorian and Edwardian designers.